SOHE 302
COVID-19 and the Crisis of Elder Care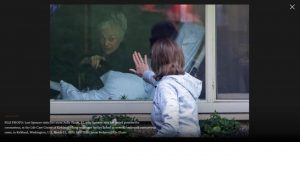 Topics in Society and Health (SOHE 302)
Spring 2021: Tu/Th, 9:30am*
Dr. Sarah Moses
Over 200,000 Americans have died from COVID-19: residents of nursing homes and assisted living facilities account for approximately 42% of these deaths nationally, and in specific states 70-80% of all COVID-19 deaths are of long-term care residents. Publications from the New York Times to Forbes Magazine have reported that these tragic statistics reveal long-standing, chronic failures of our long-term care system. And national leaders within the long-term care industry are arguing the pandemic presents an urgent call to our society to make lasting, much-needed reforms in the way we care for elders.
This course will provide students the opportunity to explore the crisis and challenge of elder care from a multi-disciplinary perspective, including cultural, philosophical, economic, medical, and public policy approaches. We will also be engaging with a variety of sources, from research articles in gerontology to the Elevate Eldercare podcast produced by the Green House Project. In addition, students will have the opportunity to hear from and interact with national leaders in the field of long-term elder care through virtual guest lectures with speakers such as Stephen McAlilly of Methodist Senior Services (Tupelo, MS) and Howard Gleckman of The Urban Institute (Washington, DC).
This course is designed for students with a wide variety of academic interests and future career goals, including medicine, public policy, healthcare administration, and social work.
*Contact Dr. Sarah Moses (smoses@olemiss.edu) if you have any questions or are interested in the course but have a course scheduling conflict.