SOHE 302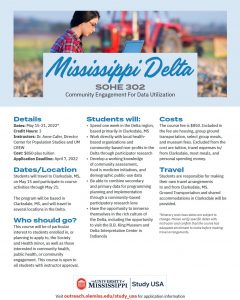 Mississippi Delta
SOHE 302: Community Engagement & Public Health
For more information about applying, please contact UM Study USA
Dates: May 15-21, 2022
Credit Hours: 3
Instructor: Dr. Anne Cafer, Director Center for Population Studies and UM CREW
Application Deadline: April 8, 2022
Itinerary subject to change. Students should wait to make travel arrangements until after confirming dates and times with instructors.
Students will:
Spend one week in the Delta region, based primarily in Clarksdale, MS.
Work directly with local health-based organizations and community-based non-profits in the Delta through participator research.
Develop a working knowledge of community assessment, food is medicine initiatives, and demographic public-use data.
Be able to combine secondary and primary data for programming planning and implementation through a community-based participatory research lens.
Have the opportunity to immerse themselves in the rich culture of the Delta, including the opportunity to visit the
B.B. King Museum and Delta Interpretative Center in Indianola.
Location:
Students will be based in Clarksdale, MS, and will travel to several locations in the Delta. May 15-21st in Clarksdale, MS and the surrounding area.
Prerequisites:
Who should go?
This course will be of particular interest to students enrolled in, or planning to apply to, the Society and Health minor, those interested in community health, public health, or community engagement.
This course is open to all students with instructor approval.
Dates:
May 15-21st in Clarksdale, MS and the surrounding area.
Travel:
Students are responsible for making their own travel arrangements to and from Clarksdale, MS. Ground Transportation and shared accommodations in Clarksdale will be provided.
Costs:
Course fee is $850. Included in the fee are housing, group ground transportation, select group meals, and museum fees.  Excluded from the cost are tuition, travel expenses to/from Clarksdale, most meals, and personal spending money.